Odessa, Texas is a fast growing city with endless opportunity. In fact, in 2014, Forbes magazine ranked Odessa as the third fastest-growing small city in the United States! With the help of land surveys, Odessa will be able to grow successfully and efficiently. Finding the right land surveyor for the job doesn't have to be difficult. Choose Land-Mark Professional Surveying today and you'll see just how easy the important task of land surveying can be. We offer the most thorough survey assistance. If you require general land surveys, construction surveys, ALTA surveys or topographic surveys, we can help.
Land Surveys in Odessa, Texas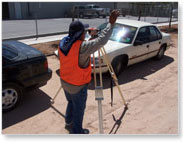 The importance of land surveys should not be lost, especially in this day and age. At Land-Mark Professional Surveying, we take the art of surveying seriously. We understand that it's a necessity. Without land surveying, cities won't be able to grow. Through precise and accurate land surveying, business owners everywhere are able to take the necessary steps in order to proceed with any development effectively.
The Land-Mark Professional Surveying team helps owners divide their land. From there, the sections can be turned into plot plans so any future development can become a reality. Land surveying also allows landowners to set appropriate boundaries, which are necessary in order to establish a stable foundation, both literally and metaphorically.
Land-Mark Professional Surveying Offers the Most Necessary Types of Land Surveys
When it comes to land surveying, the results must be as complete and thorough as possible. It's important to choose a reliable team for any land surveying job. Land-Mark Professional Surveying offers construction surveys, ALTA surveys and topographic surveys. These surveys are necessary for any land development to go off without a hitch.
Construction Survey

This type of survey is necessary in order to guide construction of any new structures. Through construction surveys, reference points and markers will be "staked out." Consider this survey a map that will guide the construction process to completion.

ALTA Survey

Land surveys from the American Land Title Association are the highest standard when it comes to surveying. This standard is recognized across the United States. Land-Mark Professional Surveying is proud to offer ALTA survey services to Odessa, Texas.

Topographic Survey

Topographic surveys are necessary in order to survey natural and manmade features on any plot of land. Hills, trees, buildings, roads and even manholes are accounted for using topographical technology. In order to begin a successful construction project, a topographic survey is highly recommended.
Choose Land-Mark Professional Surveying in Odessa, Today!
Our team offers reliable, all-encompassing service. When you choose us, you'll receive what you deserve. It is our goal to provide the best assistance to our clients. Put any land surveying woes in our hands today!