Land-Mark Professional Surveying is a land surveying and land planning firm serving the Southwest. For almost 25 years we have provided the best and most dependable land development and planning services in Odessa, Texas as well as in the states of New Mexico and Arizona where we are also licensed.
We specialize in land surveying and provide the most accurate and professional surveys our clients need. We handle large private and governmental developments in Odessa with utmost attention to detail and customer satisfaction.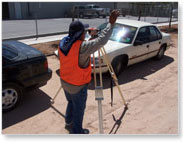 Since 1991, we have been considered one of the most dependable land surveying firms and are ready to take on your next project.
WHY US –
Here at Land-Mark we guarantee the satisfaction of all our clients in each and every one of the services we provide. We staff only professionals who work up to the highest standards of surveying protocol according to the states of Texas, New Mexico and Arizona while assuring only completed and on-time top quality work.
Some of the surveys we perform in Odessa are topographic surveys, state land surveys, and A.L.T.A. surveys. Other services provided in the Odessa area are the issuance of elevation certificates, right-of-way maps and subcontracting work including aerial mapping. See our "Services" section for more.
Our surveying projects range from small thousand dollar projects to large scale multi-million dollar projects throughout the Southwest. Our clients trust that our land surveying and land planning services will always be performed with 100% accuracy, precision and in a timely manner each and every time.
Call us today!