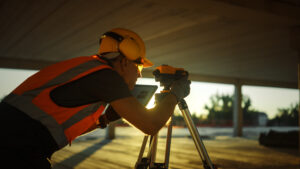 Much of the world hit the pause button in the middle of March up to May and even continuing on into the summer of 2020. It has been a strange year for everyone worldwide but despite the many changes and shifts, land surveyors have continued to do their jobs in mapping out our world. As it turns out, surveying land is a pretty essential endeavor and one that we may not realize impacts our lives pretty significantly. The last few decades have had a considerable effect on land surveying, as technologies have improved and embedded themselves in the process. We thought we'd take a look at some of the changes in the industry in the past couple of years and how we have coped with the changes of the virus. 
The Close Call — Keeping Land Surveyors Working Through the Pandemic
Across the country, governors made moves to protect their populations by shutting down what they considered 'non-essential' businesses. This led to a lot of other businesses to question the metric of 'essential.' Who, after all, decides what is essential and what is not in American life. Surveyors across the country began to make a case for their services as quite essential. 
President Trump issued two national emergency declarations under the Stafford Act and the National Emergencies Act. Several players petitioned to keep surveying operations open and exempt from the governor's orders. The letter making this case was shared with other parties including the National Society of Professional Surveyors, which encouraged surveyors all across the country to send to their governors preemptively to prevent shutdowns of surveying operations. While some governors exempted surveyors by name, others did not consider our work particularly necessary. Many appealed this by showing how surveyors are actually critical to the economic well-being of the state. The reason being that many government construction or private construction, building permits, or other infrastructure cannot proceed without a survey. 
According to many surveyors across the country, some private-sector jobs have been put on hold by the pandemic but many public sector jobs have increased. This might be because localities and other entities are taking advantage of the reduced traffic and crowds to work on important city projects.
At the same time, land surveyors are not exactly working amidst large crowds. Our profession is pretty isolated and doesn't require large teams or working in highly trafficked areas. All of our work can easily be done with social distancing and by taking precautions. Here at Land-Mark, we continue to do our important work while ensuring that all of our workers and any member of the public we might come across, is protected. 
Another aspect of our industry that has changed considerably has been the use of new technologies. These, of course, have been in the works for many years at this point. We've written about how GPS technology specifically has altered our industry, but technology has impacted us in several ways:
Accuracy: Modern instruments allow land surveyors to have an accuracy of measurements. Compared to the tools in use even a decade ago, the accuracy has improved exponentially. 
Speed: Today, the speed of the surveying process has also greatly been improved by technology. Accurate results can be presented in a few hours, allowing for projects and infrastructure to get rolling. With the use of drones, for example, areas can be surveyed without exceeding human effort. 
Improved possibilities: Development really begins with the land surveys and thanks to the improvement of technology, we are able to create surveys that create even more building possibilities. A lot of cities that are approaching development in a smarter, high-tech way, is a result of improved results in the land surveying arena. 
As cities grow, there might be limited space available and large metropolitan areas have to get creative about the way they develop some of these areas. Cities often have to perform complex planning in small and complicated areas. Land surveying is imperative when looking to make the most out of space. 
As we look to the uncertain future, we know that land surveying will continue to improve as technology improves. Automation and artificial intelligence will surely trickle into the industry, as they have already begun to do so. The use of drones, for example, has become useful in surveying difficult terrain. Other features like cloud-based storage and instant data seem to be right on the horizon. 
Get Accurate Land Surveys for Your Project
Whether you are involved in a private contract, government contract, or public sector infrastructure project, Land-Mark Land Surveying is here to provide the quality land survey you need. Get the right view of the land and proceed with confidence.