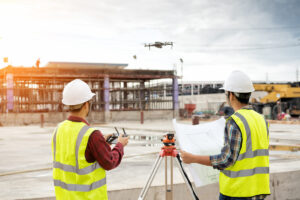 Technology continues to change the way that we live, interact, go to school, go to work, build, fight wars, and more. Technology of one sort or another seeps into every sector of life and land surveying is no different. Most people will think of drones as a weapon of war and that's certainly why they were first concocted, but the use and advancement of drones might actually have quite an impact on the industry of land surveying. The use of this technology is impacting our industry so we thought we'd pay a little tribute to the drone and its use in scoping out the terrain. 
Drones During War Time 
If told that the idea of drones goes back to the 1800s, most people would roll their eyes. Of course, drones as we know them today did not exist back then but the concept of sending unmanned vehicles to complete a mission happened when Austria attacked Venice with incendiary balloons they sent across the sky. These balloons carried bombs and were sent as a military operation. Without remote control, most of these balloons missed their target and did not actually drop the bombs where they were supposed to. Most wondered off, slowly descending with a dud, miles from their intended target. Now, compare that with today's military drones and you're talking about a whole different species, of course. 
The U.S military began using drones more readily in the Vietnam War for reconnaissance missions and even dropping leaflets for psychological operations. Today's drones are highly sophisticated flying machines that can capture photographs, information, and drop bombs at incredible accuracy and speed. Today, U.S military drones include a wide arsenal of flying beauties including the Reaper used to take out ISIS operation, the Shadow used for reconnaissance, surveillance, and field assessment, or the great Golden Hawk, which helped our great military in the Iraq and Afghanistan Wars. The Golden Hawk is known for its high-resolution surveillance capacities and the use of electro-optical and infrared sensors. 
Drones or unmanned aerial vehicles provide the opportunity to navigate difficult terrain and reach difficult places without having to risk-taking vehicles or sending people up there. In this way, drones can offer access to hard-to-reach places and facilitate accuracy in mapping. When it comes to surveying land, drones provide eyes that can reach and hover over specific areas. Because of the remote control technology, height can be adjusted for better observation. They are also equipped with sensors and can measure and transmit data immediately. These drones can help in identifying property boundaries, subdividing land, and surveying of construction sites as they prepare for building. These drones can also produce accurate topographic and hydrographic maps, volumetric calculations, flood insurance maps, and more. 
The world of civil engineering has long depended on manpower to gather data. Today, the use of drones is revolutionizing the industry of civil engineering and even construction because of its ability to gather accurate data for the purposes of building and more. 
Drones in the Field of Land Surveying, Construction, and More
Drones are changing the land surveying industry in a couple of ways and provide certain benefits like:
Disruption: Surveyors often have to deal with disruption or boundaries that make getting a full survey a little more difficult. The operator using a drone does not have to worry about any disruption to the sightlines. 

Imagery: Images collected from a drone are not only accurate but high resolution and can serve a variety of purposes. 

Risk: The use of drones lowers the risk to the surveyor when it comes to difficult and dangerous terrain, not to mention eliminates the need to go out when weather conditions are harsh and can disrupt the work. Because of this, the safety of employees and workers is prioritized. Land surveyors are tough and are used to navigating difficult places, but drones eliminate the need to put workers in unnecessary peril and get the job done with the same amount of accuracy, it's a win-win. 

Survey speed: Using drones increases the rate of speed of receiving the information. Land surveying often requires carrying equipment and setting it up from one place to another. Drones can eliminate most, if not all of the need for this. Drone mapping means that you can do an entire area or construction site in one swoop and obtain accurate information. 

Efficiency and budget. As drones become more commonplace and specialized software makes its way to the civil engineering industry, using drones can be a way to stay in budget and make better use of resources for a project. And who doesn't love that! Whether it is a construction company or a government contract, saving on resources is always at the forefront. 
Mapping in Record Numbers 
Experts assert that by using UAV (Unmanned Aerial Vehicle) technology will shorten the surveying process and contains the great possibility of reducing time and monetary investment. Whether it is the construction industry or home building industry, this is always on top of everyone's list.  The use of drones in surveying, however, is not just about productivity and speed, it is also about accuracy and the ability to improve the work we do. With this, we can carry out more projects in the same amount of time but also work with quality data sets, which in turn allows better and more through planning. 
One popular example was the famous mapping of Ghost Ranch in New Mexico in 2015 that happened after the area suffered some flash flooding. Surveyors were called in to assess the area and get an idea of the damage and the conditions. An early company using UAV for surveying purposes was tasked to do the job and were able to do a complete drainage study with a 45 minute drone flight and mapped 1,200 acres in one hour for a stream geomorphologic study. Most people know Ghost Ranch for its contribution to such popular films as Indiana Jones, Cowboys and Aliens, No Country For Old Men, and more. 
So as drone technology improves and becomes more ubiquitous, the work of the land surveyor will be positively impacted and improved. Here at Land-Mark, we are excited about the many possibilities that lie ahead with this and many new technologies. Until then, we continue to perform our work with high standards of excellence and accuracy for every job. If you need some land surveyed for a project, call us today and find out more.