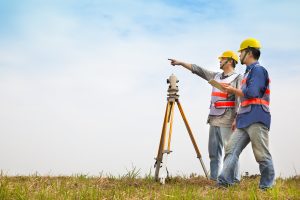 There are probably many jobs most people haven't heard of, like snake milkers and professional bridesmaids. A land surveyor, however, plays a significant role in building and construction. Before you build or renovate anything, it's best to contact someone from Land-Mark Professional Surveying to help ensure you're on the right track with your project.
What Does a Land Surveyor Do?
A land surveyor is also known as a cartographer. A person in this field measures and maps the environment using mathematics along with specialized technology and equipment. They can measure just about anything on land, in the sky or on the ocean bed. They can even measure polar ice-caps.
Land Surveyors work with engineers, architects and builders so as to produce precise descriptions of the surface of the planet. They also perform a variety of vital tasks including boundary surveys, topographic mapping, and construction staking.
You may need a surveyor to help measure your property in order to determine its boundaries. This information determines where roads or buildings should be constructed, settles property line disputes, and leads to the creation of maps. Moreover, any maps or land descriptions  they supply are usually considered legally binding and can be presented in a courtroom setting. This profession requires people to be trained and licensed in order to work.. 
Other Facts
According to the U.S. Bureau of Labor Statistics, " the duties of a land surveyor include making a record of the 'distances, directions and angles between two points' on the ground, using agreed-upon reference points, called benchmarks, as a starting point." Surveyors also use global positioning technology to confirm a specific location. They carefully define the boundaries of interest, using both their on-site surveys and records found in land offices, in order to write the legal description of a parcel of land. Furthermore, land surveyors may use a geographic information system device to prepare a highly detailed, layered map of the results of a survey, in order to show all easements, soil conditions, and structures contained on a particular parcel. Surveys filed and recorded in public repositories, including county or parish clerk's offices, are considered public records documents.
Both Michael Douglas and Hugh Grant starred in movies that had land surveyors as main characters. In addition, three out of the four presidents on Mount Rushmore, George Washington, Thomas Jefferson, and Abraham Lincoln, started as surveyors, as did Lewis and Clark. The Egyptian pyramids influenced land surveying. Land surveyors still use many of the tactics used back then today. 
While not quite that old, Land-Mark Professional Surveying of Las Cruces has been in business since 1991. Put our 25 years of experience to work the next time you need property in the southwest region surveyed.