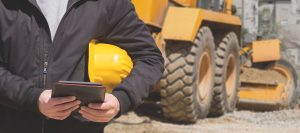 Establishing ownership and jurisdiction over land can seem impossible. Does it matter if someone built on it before? If there is someone else's property on it? Or if the land has shifted and changed over time? All of these questions can be solved by getting a land survey. This is especially true for the developing city of Las Cruces. Land-Mark Professional Surveying can do quality construction surveys in Las Cruces. Before getting a survey done on any piece of land, you should know what it is for and how to use them.
What Do Construction Surveys Help?
Construction surveys can help any construction project avoid problems. Surveys are often done to mark out land boundaries. This can be done to clarify property and ownership. It is particularly useful whenever issues with a building are concerned. This is because a survey takes the original land grants and measure out their dimensions on the property. Land can change over time. But land documents do not. This makes a survey the best and easiest way to establish boundaries.
For construction, survey's work the same way, but on a larger scale. First, they take the land dimensions from the contract or deed. Then they measure those dimensions out on the land. This gives the builders a clear boundary, allowing for buildings to be built within the proper boundaries. This is extremely helpful for land that is not developed. The survey will mark off the area and allow builders and architects to create proper buildings for it.
When Can You Use Surveys?
Having construction surveys done helps avoid future problems. Just like with households, land can change over time. Having a survey done makes sure that the building is within its proper boundaries. This avoids problems for neighbors and new development. In addition to this, you can judge whether the land you have is enough for the building you want to build. If you buy land adjacent to your current land, having a survey done will reestablish property as well. Information documented by a survey can be used as legal claims in court too. All of this helps you avoid issues while building.
Surveys are important to development. They help mark and maintain boundaries for construction. This is important for creating a legal and sustainable property for years to come. It also helps avoid trespassing and ownership problems later. Land-Mark Professional Surveying is experienced with construction surveys in Las Cruces. No matter the issue, they can help clarify it. The best way to establish property and ownership is through a survey. No matter what, land dimensions outlined in a deed do not change, even if the land it is for does. This is how surveys can help clarify issues of property, especially when the land in question is being built on.