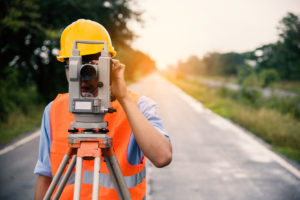 As land surveyors, we have to carry around a great deal of equipment. We're often mistaken for photographers because of our tripods, but the rest of our gear quickly dispels that thought. We deal with precise measurements, so it's crucial to have the right tools on hand. Here we'd like to teach more about our equipment, so you can see us and not mistake us for dedicated Instagram photographers.
Theodolite –  A theodolite is a surveying instrument with a telescope for measuring horizontal and vertical angles. Some land surveying crews use transits and total stations as well, which are used for the same purpose. These can be very pricey; they can range from $200 to over $50,000 in retail price!
Surveying Tripod – Be sure not to spend all your money on the theodolite, because it needs a place to sit as well. The survey tripod is a sturdy tripod that is designed to move as little as possible for accurate measurements.
Hand Tools – Besides the main equipment, a surveyor will need a host of other equipment to do the job well. Rope and measuring tape are great for rough measurements and marking, while items like picks and saws help clear debris to properly survey. 
Clipboard – All the data needs to go somewhere, right? A clipboard and pencil are necessary to take measurements or notes down onto paper, or a good PDA would suffice as well.
Land Surveying Done Right
If you're in need of a land survey, Land-Mark Professional Surveying is the best in the southwest. We work in Texas, New Mexico, and Arizona, and provide quality land surveying for all of our clients. Contact us to see what we can do for you!