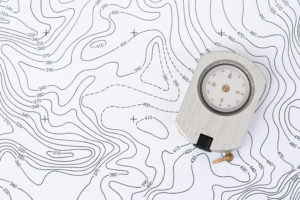 Topographic mapping is at the heart of what we do here at Land-Mark, but often people aren't sure what it means. It may sound pretty complex, but it's actually pretty simple and useful. In this article, we'll briefly discuss what a topographic map is and its uses. 
What Is A Topographic Map? 
A topographic map is simply a highly detailed map that shows the change in elevation between swaths of land or water. Modern topographic maps use contour lines but have used a number of other methods in the past. They usually cover large areas of land, as smaller maps of this type qualify as chorographic maps—though those are often labeled as topographic anyway. 
As can be seen in the picture above, the contour lines on the map are associated with a number that denotes the elevation on that line. The closer the lines are, the more drastic the change in elevation. Topographic maps can be used to show natural and man-made elements. 
The Uses of Topography
Topography has a vast array of uses associated with it. Large-scale architecture, for example, needs topography to determine where and how to build. Hiking may also use these maps, as well as mining, civil engineering, and other geographic activities. 
Topography With Land-Mark Professional Surveying
Need a topographic map of an area or just have questions about the process? Contact Land-Mark today, and get started on your topographic needs!