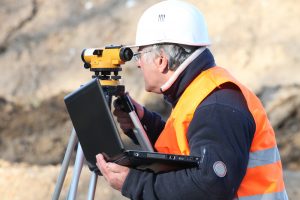 If you want to work on land in Las Cruces, you will want a land surveyor in Las Cruces. The work of a land surveyor still mystifies the general public. Land-Mark Professional Surveying, a land surveying company in the area, knows well what it takes to survey a piece of land. Modern land surveying involves sophisticated tools that enable the land surveyor to make very accurate measurements on land or sea.
The History of Land Surveying
Land surveying has been around since man started working on land and marking boundaries. In Egypt, the construction of pyramids has been proven to need the accuracy of a land surveyor. Today tools like GPS markers and Robotic Total Stations enable surveying over any terrain with great precision.
Instruments a Land Surveyor Uses
A land surveyor relies on specialized equipment like the Total Station. Based on the theodolite, which measures angles on the horizontal and vertical plane, the Total Station is a modern instrument. By using electronic distance measurements or EDM,  Robotic Total Stations are fully automated. Furthermore, they also connect to a GPS for more accuracy. Surveyors also use specialized land surveying software that uses 3D modeling. With the help of programs like Auto CAD to translate collected data, surveyors can make full 3D diagrams and maps.
Steps in Surveying
There are several steps a land surveyor in Las Cruces must take to create a map. The first of which is to measure distance. Horizontal distance is the first taken from point to point using EDM.  The surveyor can also use tachometry which is the science of measuring the angle between two objects with a known size. Because land terrain will always be at different angles, surveyors use the theodolite to take horizontal measurements. The last step is to level the different height measurements using the GPS.
A land surveyor in Las Cruces has a complicated job that could take weeks to complete. So, if you are looking to build on open land, a surveyor can give you vital information on the area. As an experienced surveying business, Land-Mark Professional Surveying can provide accurate information on any land you want to build on.