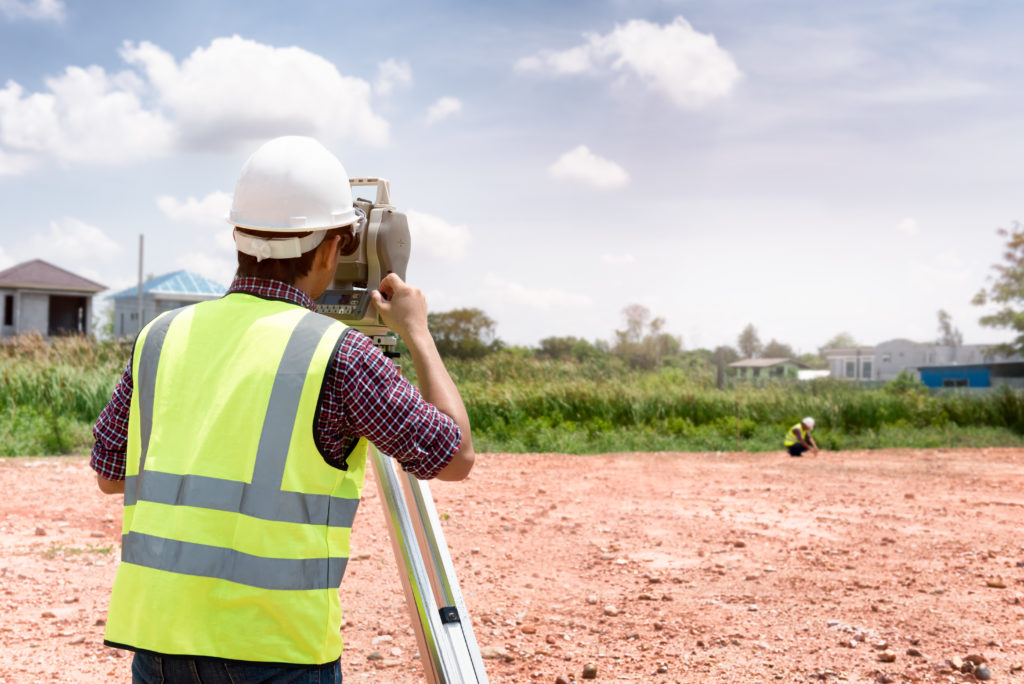 Since 1991 Land-Mark has been at the forefront of the land surveying industry. A lot has changed since 1991, of course. In the early nineties, very few people could imagine that their cumbersome beepers would be transformed into sophisticated mobile devices capable of helping them navigate unknown territory (figuratively and literally), facilitate immediate communication across the globe, provide up-to-date news, take decent photographs, and store hundreds of bits of information. Similarly, technology has found its way to land-surveying and other relevant industries, providing equipment that increases accuracy and efficiency. 
We use a variety of equipment, depending on the specific job, land, and project at hand. One of our trusted partners includes the company TopCon. These guys are highly innovative and perfectionists in developing new systems and equipment to improve the construction and planning of infrastructure and land planning.  Topcon provides the positioning technology for surveyors, civil engineers, construction contractors, equipment owners, and operators. The geospatial solutions from Topcon have the most in-depth precision measurement for land mapping and surveying. 
The Use of Digital Systems in Construction, Infrastructure, and Mapping
As land surveyors, Land-Mark is at the opening stages of a construction project. We form, however, part of the bigger picture that is all infrastructure building and construction. The use of technology in all stages of the construction industry has improved construction's accuracy, safety, and efficiency. 
In 1927, as TopCon points out, the world had 2 billion people. Only about one hundred years later did that number rise all the way to 7 billion. This means thousands of more acres developed, millions of more buildings erected, hundreds of more cities extended and expanded, and a constant and consistent demand for better and smarter building solutions. 
A Few Amazing Examples….
Building great structures has always come at a human cost. There is not only a demand for human toil and labor but a high risk of accidents and injuries in any construction site. Any great building or structure you can think up has come at a cost of human lives. Some projects have been more successful than others. The Golden Gate bridge, for example, had 11 laborers died, a neighboring bridge, the Oakland Bay Bridge, had 28 people die in its construction. The World Trade Centers had 60 construction deaths. Recent technology, however, has allowed engineers to survey an area using drone technology without putting human lives at risk. A TopCon project to repair the Great Wall of China would have required workers to traverse a dangerous area. Instead, they sent a drone that was able to take thousands of high-resolution images that could then be input into a 3-D model, that was then used to examine the area and determine what needed to be done. 
Measurement instruments have improved the ability for land surveyors like ourselves to enhance our workflow and improve our accuracy. Another great thing that technology offers is that added guarantee of accurate measurements and absolute efficiency. Land-Mark personnel is trained in a variety of high-tech and highly-specialized equipment that will ensure the proper mapping and measurements of your land project. 
Explore the Wonders of Accurate Land Surveyors
So whether it is expanding a university campus in the middle of the growing El Paso central area or any other construction project in Las Cruces or Odessa, we are here to provide the most accurate topographic, stand land, improvement, and above and below grown surveying in the Southwest.  Call Land-Mark today and find out more about our exciting projects in the area, both private and government work, that will show our dedication and find out about what we can do for your upcoming project.