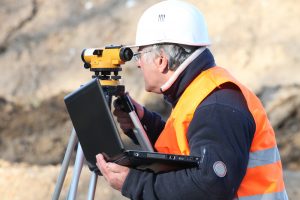 If you want to work on land in Las Cruces, you will want a land surveyor in Las Cruces. The work of a land surveyor still mystifies the general public. Land-Mark Professional Surveying, a land surveying company in the area, knows well what it takes to survey a piece of land. Modern land surveying involves sophisticated tools that enable the land surveyor to make very accurate measurements on land or sea.
The History of Land Surveying
Land surveying has been around since man started working on land and marking boundaries. In Egypt, the construction of pyramids has been proven to need the accuracy of a land surveyor. Today tools like GPS markers and Robotic Total Stations enable surveying over any terrain with great precision.
Instruments a Land Surveyor Uses
A land surveyor relies on specialized equipment like the Total Station. Based on the theodolite, which measures angles on the horizontal and vertical plane, the Total Station is a modern instrument. By using electronic distance measurements or EDM,  Robotic Total Stations are fully automated. Furthermore, they also connect to a GPS for more accuracy. Surveyors also use specialized land surveying software that uses 3D modeling. With the help of programs like Auto CAD to translate collected data, surveyors can make full 3D diagrams and maps.
Steps in Surveying
There are several steps a land surveyor in Las Cruces must take to create a map. The first of which is to measure distance. Horizontal distance is the first taken from point to point using EDM.  The surveyor can also use tachometry which is the science of measuring the angle between two objects with a known size. Because land terrain will always be at different angles, surveyors use the theodolite to take horizontal measurements. The last step is to level the different height measurements using the GPS.
A land surveyor in Las Cruces has a complicated job that could take weeks to complete. So, if you are looking to build on open land, a surveyor can give you vital information on the area. As an experienced surveying business, Land-Mark Professional Surveying can provide accurate information on any land you want to build on.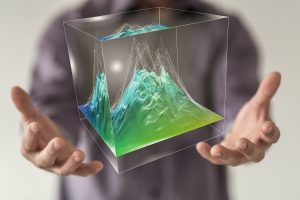 Topographic surveys in Las Cruces NM are going to give you a complete picture of a plot of land. The information provided by these advanced surveys is needed. This way you can make informed choices when deciding the value of a piece of land for a particular purpose. You also need a high-quality and comprehensive topographic survey when planning development and beginning the construction phase. Land-Mark Professional Surveying can help.
Benefits of Topographic Surveys in Las Cruces, New Mexico
If you are a home building company, you already know the value of topographic surveys in Las Cruces NM. You will want a complete topographic survey of a plot of land where you plan to put your new building project so you can understand exactly what it is you are embarking on.  
Topographic surveys in Las Cruces, NM help home builders. This way, builders understand what features exist on the land they are planning on developing. By using the information from the surveys, developers can determine exactly how to divide the lots, where houses should go, and how development can take place.  When developing an attractive subdivision, the fullest potential of the land can be used.
Choose Us For Your Topographic Surveys
When you need topographic surveys in Las Cruces NM that cover a big plot of land and you need them to be accurate for your planning of suburban development, there is only one company to call. For this reason, Land-Mark Professional Surveying is trusted by builders and developers throughout the area.
Having a strong team at your side will yield the best results. To learn more about developers with topographic surveys in las Cruces NM, give us a call today. We will conduct your survey in a timely manner. A licensed professional will do the survey. This way, your development can begin quickly. Contact Land-Mark Professional Surveying today.