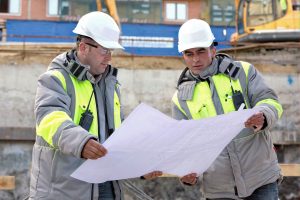 If you are curious about what is involved in construction surveys, hopefully the following information will serve helpful in breaking it down. Clearly the Las Cruces area has been growing in recent decades. This is mainly due to an influx of retirees and government employment. With this increase comes the need to build roadways and new structures capable of withstanding the demands of environmental and human engagement. Our company, Land-Mark Professional Surveying Inc. is comprised of professionals in the land surveying industry, ready to perform the first step in new building plan developments.
Construction Surveys Made Simple
It is important to understand the basics of surveys. Construction surveyors are land surveyors who have specialized training in the field of construction. It is also vital to remember that most construction projects can't start without a survey. The surveys provide invaluable information that you can't be see by simply looking at the land. This type of surveyorship is used to analyze the reference points necessary to guide construction.  These points are then used to establish the best place for new highways, bridges, buildings, pipes etc. to exist. Preliminary construction plans will show various views of the project.
They will include views from above, transparent views and cross-section views. These different views help the construction project remain accurate during every phase. Once the surveyor has conducted the survey thoroughly, developers refer back to it during construction in order to verify correct application. Afterwards, engineers will conduct an "As-Built" survey to ensure the specifications set on the plans match the final outcome.
Professional Land Surveyor Services
The process of construction surveys in Las Cruces  plays a vital role. When it comes to developing an expansive construction project you will definitely need a surveyor. Many individuals rely on this accuracy given their daily interaction with these new roadways or structures. At Land-Mark Professional Surveying Inc., we make it a priority to examine a construction project with the highest level of accuracy and professionalism in the industry. If you would like more information on construction surveys or how to have one performed for your next project, contact us today!