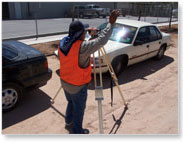 There are several different reasons why you need a land survey in Las Cruces done. You might be buying a new property and want to avoid any hassles with your new neighbors over where that apple tree actually is and who really owns the shed at the far end of the adjoining land. At Land-Mark Professional Surveying, Inc. we can help you avoid these types of disputes with professional land surveying.
A Land Survey in Las Cruces helps You Avoid Disputes
Quite often a land survey in Las Cruces is a legal requirement and you'll need to have one done even if you've bought a smaller home in the city. It is important that you have one of these professional surveys done so that you can feel confident knowing exactly where the boundary lines are for you new property. These land surveys should also show you if there are any easements or other government right of ways on your property.
Topographical Survey

There are other kinds of land surveys that are equally important and one is what's called a topographical survey. These are important for contractors and other builders who need to understand not only the boundaries of the land but the topographical features like the grade that can affect the way drainage is affected.
At Land-Mark Professional Surveying Inc., we have all the qualified licenses and strict knowledge requirements to be able to carry out a land survey in Las Cruces. We can carefully assess your property for accurate boundary lines and keep a record of every measurement we take. Contact us today!