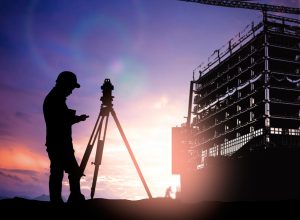 When building over land, you will want first to find a surveyor who is knows about surveying in El Paso property. This is important because a knowledgeable surveyor can give you pertinent information about the property. Here at Land-Mark Professional Surveying, we want you to avoid as many problems as possible. Here are a few things a survey can tell you about a property before you begin to dig.
Surveying El Paso for Boundary Lines
When inspecting a property for purchase or to add onto, you will want to know where the borders reach.  Often, it will not be enough to take physical measurements of the building. That is because legally, the property could either extend further beyond the border or closer within it.  If it extends further, you can make better use of the space you have. If the border is smaller than anticipated, you may be encroaching on nearby properties. This can become a hassle if neighbors ever survey their own property and find out you withheld information.
Surveying for Zoning Classification
If you are planning on building or buying a building for industrial purposes, a survey can help. Because every city has classified different zones for different purposes, you may not be able to build. For example, if you want to maintain a small farm in your backyard there will be laws prohibiting you. Specifically, a farm belongs in agricultural zones as opposed to a residential zone where your home is.
Utility Company's Rights
Another advantage to surveying El Paso properties is finding out what equipment a utility company has on your property. If a water company has already built a pipeline underneath the property, they could prevent you from building. While it may not be a problem at first, they can potentially use your property for any repairs. Similarly, if there are electric lines overhead, an electric company can prevent you from growing trees there.
By surveying El Paso property first, you can avoid all of these problems. When you decide to build in El Paso, it is important to find a surveyor with plenty of experience.  Land-Mark Professional Surveying has been in business for over 25 years. Our trained professionals can find out if your property may run into trouble in the near or distant future.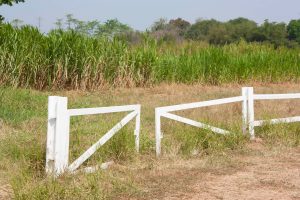 As the name suggests, a boundary survey in El Paso can clearly mark where your property ends and your neighbors begins. At Land-Mark Professional Surveying, Inc. we can provide such services to a property owner. This is a professional and accurate way of determining rightful boundary lines. Boundary surveys help settle disputes of other types as well, including some of these examples below.
Boundary Surveys Provide Irrefutable Proof
A boundary survey in El Paso is an excellent way to determine where you can build on your property before the work even begins. Spacious backyards are great to have but can sometimes become a source of complication when the boundaries are not so clearly set as with other types of homes. In this case, you would be better off having boundary surveys conducted before any additions are made to the property. The limits of the property you have is also important to know when you are planning to pass on your estate to a loved one after death. Professionals in the industry use metal bars to mark property lines and this is generally considered irrefutable legal proof.
Useful Documentation
It is also a useful document when you go to sell your property because it saves any potential buyer the anxiety of wondering where the property lines are. You will know exactly what is and is not included in the purchase.
At Land-Mark Professional Surveying Inc., we understand all of the latest techniques when it comes to professional boundary surveys and other types of land surveying. A boundary survey in El Paso can be easily conducted and recorded for complete accuracy for legal and personal reasons. If you are considering a land survey of any kind, then contact us today!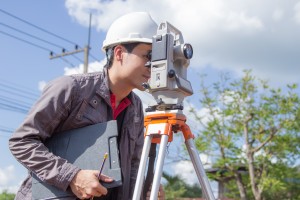 Boundary land surveys are necessary in order to determine the exact dimensions of a land that has been left to someone else. Not only will these kinds of surveys make sure that the parcel of land matches land spelled out in a will, but also find out whether or not the land has been encroached upon, and if the land is subject to any regulations at both the state and local level. There are phases of a boundary land survey that are necessary in order to make sure the rules are followed when performing one of these land surveys.
Research Must Be Done
The first step of land boundary surveys is to make sure that the land surveyor does the proper amount of research into the records involving the parcel of land. A boundary survey can be good for up to 30 years, or if/when whoever owns the land decides to break it up and sell pieces.
The Records of Boundary Construction Must Be Examined
The state of Texas has recorded data on every piece of land in the state. When the dimensions of a particular piece of land are in question, it is the job of the land surveyor to go through these records, and all documentation, to determine the boundaries. This is why it is essential that an accurate boundary survey is done, which is why you need the services of Land-Mark Professional Surveying, Inc.
Check Into All Boundary Construction Information
Land surveyors will begin at the Texas General Land Office, but this is not the only record office they must check over. They must also head on over to the county clerk, the county appraisal district, utility companies, and any other departments that may have any information about the piece of land in question. From all of this information, a land surveyor will create a sketch of the land based on the information that was uncovered.
The Field Work and Final Survey
After all records have been looked at, and a sketch has been created, it is time for some work out in the field. At this time, it is time for an actual survey, and a land surveyor may use the aid of technology such as a GPS device. Once the land has been scanned, and technology has been used to map it out, then a final survey is done, and all lines of the land are located.
When it comes time for a land boundary survey, Land Mark Professional Survey, Inc., is able to handle such survey. Contact our offices today for more information.